Lost
Contact us with information about your lost pet and we will post it here. The more people you contact, the better your chances of finding your pet.
Please visit our "Looking for a good home" and "found" pages
Links to Other Lost and Found Pages
FaceBook Lost and Found pets in Oklahoma (You can post you lost/found here as well)
Red Dirt Boxer Rescue Lost/Found
NEEDED: If you have a pet carrier/pet taxi in good working order that you are not using. Please consider donating it to ARC for use in our spay/neuter projects. Drop us an email and we will make arrangements to pick it up. We need all sizes. Thank you.
There are pets on here from OK, TX, and KS - Please look for your area, Thanks!!
Lost in Shawnee, OK
LOST DOG between Wolverine and Moccasin Trail off Acme Road, North of I-40, since JULY 17, 2012. IZZY – (short for GIZMO), is shy – has an orange collar – eyes look like she has eyeliner – about 3 yr old, black and brown. , 80-85 lb and would probably come up to you. Last seen in a pasture with several dogs. If you spot her – please call ROBIN ROWDEN at 275-1129. She is offering a $250.00 reward. Or email at denrowllc@aol.com

Lost in Tulsa, OK
Dogs escaped from the yard this morning (7/24/12) near 18th and Lewis. Gretchen is an australian shepherd/border collie mix and Abbey is a brownish red possible lab mix. Both are spayed females. Call Brandy Ennis at 918-766-6092.
Lost in the Tri-City area, OK
Lost a female red heeler 1 year old. Lost out of truck in tri city area on sunday the 6th and her name is baby. I will pay a good reward for her. (405)388-9037

Lost in Shawnee (Harrison and 7th), OK
Our family just recently lost our little puppy (Snowball)... we think she got out of our gate.. we just recently moved here and I got the puppy for my children. if found please contact me at 9092229901 or email me @ jessica.willson1986@gmail.com it would mean so much to my two small boys...thanksJessica- mother of two heart broken little boys
Lost in Shawnee, OK
Lost long hair blk/wht neutered male Japanese chin, looks like a Pekingese. Did not have his sweater. PLEASE contact 405 273 3512 even if you have jsut seen him. Reward
Lost between Westminster and Anderson road, OK
We lost our red Pom pup 10 months old, March 9. He was missing from our backyard on E Sorghum Mill Rd between Westminister and Anderson.
He has been spotted around Westminister and Charter Oak. We miss him so much and would like any leads. Please BOLO!
He is red with black sable and a black muzzle. He weighs around 3 pounds. His name is Nomie Dana 405-640-7953, call, text, or email
Lost in Tecumseh, OK
LOST two adult female Boxers (Macy and Molly) on Rose Dr and 6th St in Tecumseh on 3/28/12. Brown with white chests and black faces. Their ears are not cropped. REWARD for return. Please call with any possible leads. If you think you may have seen either of them, even if it's in someone's yard. Carol Kelley 405-317-8644
Lost in Chandler, OK
West of Chandler on 66. There is a possibility he was stolen, so we're casting a wide search. Lost Black Lab Mix. Approximately 2 years old. Has some white on chest. Went missing Wednesday, November 16, 2011. Answers to Marco. Loves to chase cars. (405)328-0232

Lost in Shawnee, OK
I have a basset hound tri color he went missing 10-15-11 north of st greggs he is wearing a blue Harness real big dog full blood you can contact me at (405)213-4515
Lost in McLoud, OK
Brittany Spaniel lost 10/10/11 in the vicinity of Hardesty Road and Fishmarket Road, McLoud. Offering reward for her return. Please call 405-570-7344.

Lost in McLoud, OK
9-08-2011 We lost our English Bulldog named Peanut Butter on 9/6/2011 in McLoud Oklahoma. She is not wearing a collar. If found please call 580-380-1111, 405-255-4138, 580-367-0078 or 580-367-5152.

Lost in Shawnee, OK
9-05-2011 My family and I have lost our precious cocker spaniel with medium hair cut. Her name is lady and she is white with tan patches with a bandana around her neck. Lady is very sweet and friendly would hurt a fly. Please if you see her or know where she had walked please contact me at 405-432-8399, 405-275-3385, or cc8789@hotmail.com. We love her so much and we just want her back home safe.
Lost in Edmond, OK
7-23-2011 Lost, my sweet chihuahua Max. He has long black hair and is white underneath and on his front feet. He is very friendly and would come to anyone. He was lost after the storm in Edmond on 08-10-2011. If you have him PLEASE call or email me...I miss him so much and need him home safe with me. I do have a reward for his safe return. Thank You email teach325@cox.net
Lost in Shawnee, OK
7-31-2011 Lost cat named 'Marbles'. She is white with blue/grey ears, a big blue spot on her hip and a yellow and blue/grey tail. She disappeared this morning, 7-31-11. She is in very good health and I want her home. Please. Contact kkelliott@allegiance.tv

Lost near Pecan Valley Junction, OK
5-26-2011 Lost a female white schnauzer off Harrah/Newalla Road near Pecan Valley Junction gas station. She has a pink collar and rabies tags. She is spayed. Contact: 405-924-4380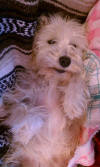 Lost in Shawnee, OK
5-02-2011 Bob is a small short haired brown mix. Sometimes he looks Chihuahua-ish, sometimes Dachshund-ish. He has a white chest with a touch of white between his eyes. The tops of his feet are white. He was lost in the area of Musson and Garrett's Lake Road. He has been missing for 3 weeks. Please contact grubweiss@aol.com.
Lost in Shawnee, OK
4-22-2011 Grace is a Brindle and white pitbull. She was last seen on Pottenger road near the Apostolic mission. She was wearing a blue collar and black harness. Has been missing a week now Contact: silver_tiger26@yahoo.com
Lost in Haskell, OK
3-21-2011 2 MALE DOGS LOST PLEASE HELP. 1 EYED CHIHUAHUA AND POMERANIAN W/SPECIAL NEEDS. Contact: 918-955-5117
Lost in West of Shawnee, OK
Please help try and locate this family pet who disappeared during a fire at the home of Richard and Linda Dawson. She answers to Mary, is wearing a pink 1/2 inch collar and was last seen in the Hardesty Walker Rd. area...call 598 3096 if you should see her. Although she looks off color in the picture, she is pure white.
Please send this to all in your network....she is all the family has left after the fire...
Lost in Shawnee, OK
2-28-2011 Lost white Bichon Frise around first of february. Midland and Kickapoo in Shawnee just moved here he is not familiar with the area at all. 5 years old his name is cooper very very short hair no collar. weighs aprox 25 lbs. Very friendly if anyone has any information please email at carlee_goforth@yahoo.com.
Lost in 89th and Choctaw area, OK
1-23-2011 Scrappy, the Golden Lab, has been missing since 01-09-11. He got out of his fence which is normal for him to do every so often but he always comes back within the hour. Scrappy has been through a lot. He was born to parvo almost died and almost died when he broke his chain and got tangled around a pole in the heat of august for hours. I found him just in time. He did get sunburned very badly and has a scar down his back. He is my super dog and I am missing him. Please call 405-343-1598 if you have any information
<![if !supportLineBreakNewLine]>


<![endif]>
Lost in Shawnee, OK
1-01-2011 Lost a full grown black lab with a little bit of white on him. On 1/1/11 in Shawnee, Ok off of 102 south. Contact afton.mcdonald@hotmail.com
Lost in Shawnee, OK
12-03-2010 Male Dachshund, black and tan, neutered. 7 years old, he has a black collar and a noticeably crooked tail. Last Seen in area of 39th and Marie Drive. Smoking Oaks Addition November 29, 2010. Duke went exploring after high winds possibly opened the gate. He loves to socialize with other dogs and may be around your home. Duke is usually skittish around strangers and may be difficult to catch. Duke is under Vet care and requires special food. PLEASE call if you see him or are able to capture him. We miss him terribly!
Contact Information: Dana Freeman Phone: 405-595-7552 or 405-249-8756, E-Mail: Danafreeman13@hotmail.com

Lost in Shawnee, OK
12-03-2010 Lost in Shawnee, Contact Jennifer: JENNIFER.BROWN6@va.gov
Lost in Shawnee, OK
7-20-2010 Moved into a new house on Broadway in Shawnee and my dog disappeared from my fenced yard the next day (Friday the 15th) while I was at work. He is a large mixed breed, tan and white wearing a blue collar. His eyes are unique. They are mixed blue and brown with black specks in them. His name is Charlie and he is a sweetheart who is used to staying inside when I am home and at night. I am very worried as we just moved and he is unfamiliar with the area. He is used to quiet country living and I have no idea how he will react to traffic and loud noises. He was seen on Sat in an ally downtown and possibly in the back of a pickup on Sunday. At this point he could be anywhere. Please, Please help me find him. If seen please call Amy @ (405)596-1245.
Lost in Shawnee, OK
7-20-2010 Lost female Boston Terrier missing from by the Shawnee high school area .... if anyone has seen her please call 585-8622
Lost Newalla, OK
7-7-2010 Lost red heeler puppy this puppy has been lost since Wednesday June 30 2010 we thinking she may have been stolen but are praying that someone will see her and bring her back please she's our baby! Call 405 788 6948 with information.

Lost Bethel, OK
5-24-2010 Lost Boxer, Pit, Shar Pei, Mix in the Bethel, Tecumseh area south of #9 on Gaddy road.
Light brown with blue collar. Very friendly dog, likes people, His name is Pedro, If you see him,
or can get him, Please call 273-8141 and leave a message. REWARD
Lost Oklahoma City, OK
5-10-2010 Our beloved family member disappeared from our house near NW 114th & Walker on Sunday, May 2nd. Half Shih Tzu, half Pomeranian. She has light brown fur with white on chest and feet, brown eyes, underbite, weighs approximately 8 lbs. Answers to the name Maggie. PLEASE call Sheila @ 824‐9267 if you have seen her. Thank you.
Lost Oklahoma City, OK
5-10-2010 I'm still missing my baby - Salt & Pepper Mini Schnauzer - Male - Short hair on his back and head and a longer wiry hair "skirt". He was last seen playing with some other dogs the morning he got out of the backyard, just down the block from his home on NW 30TH & PENNSYLVANIA in Oklahoma City, OK. PLEASE let me know if you know anything about where he is or if you have him, please call and let me know. I know it would be hard to give him back, but he belongs with his family and we miss and love him more than words can say. I have been so worried and cry all the time just thinking about him, so please, please let me know if you know anything. We just want our baby back at home. Please call 936-232-7690 or email at Jessicalange7@hotmail.com
Lost in Shawnee, OK
(Highland/Roosevelt)
5-7-2010 My 5 year old Yorkie got out of our yard. He is a black and golden male he weighs about 9-10 pounds and is a little longer than the normal Yorkie and appears to be thin. He has a collar on that has a blue, green, and red stripe on one side and brown on the underside of the collar. He did not have a name tag on. He was recently groomed and cut . He has a shaved back and tummy, with longer hair on legs and tail and a Yorkie cut on face. He was seen running around Highland and Roosevelt in Shawnee. There is a reward for the return of my baby. No Questions asked. He answers to Dexter. Any information would be greatly appreciated! Please call (405)514-0128 or email me at Jennyms319@aol.com.
Lost North of Chandler, OK
4-12-2010 Lost, Pembroke Welsh Corgi. Grizz is 7 months old. Missing from North of Chandler, close to 830 rd and Highway 18. Any help in locating him is greatly appreciated. Tan with white. Very friendly. Please email easterpickle@yahoo.com or call 361-534-9564.
Lost Shawnee, OK
3-12-2010 Lost American Staffordshire Terrier, working dog. See flyer below for more information.

Lost Shawnee, OK
3-12-2010 Lost a Chihuahua tan/mix near Federal and Beard (in Shawnee) last Thursday. He had a blue collar on – no tags. His name is RICO, male and was let out on Federal to go wee wee and didn't come back. Please contact Tammy at 275-7598 or mother (she is the owner) at 214-1930
Lost Shawnee, OK
3-12-2010 Lost after March 20th, black/white/brown male Sheltie/Shetland Sheep dog Southeast Shawnee area. Name Toby. Call 308-8824
Lost Oklahoma City, OK
3-28-2010 Lost on 3/18/2010 from 2021 S. Grand Blvd, Okc, OK 73108 corner of S.W. 20th and grand. If found Please call Bobby at (405) 264-7912 or Lisa at (405) 420-7736 Reward is being offered for their safe return home TY
Lost Shawnee, OK
3-12-2010 Lost Female Pit Bull Terrier. She is about 48 lbs/Spayed/Green Line Tattoo on belly/ Lost around 51st Memorial/Sheridan but believe she may have been taken and then dumped or be making her way back to her old home on Admiral and Sheridan/Yale. We are offering a generous Reward for her return with Absolutely no questions asked. Please call/text 513-1082 with any information.
Lost , OK
3-2-2010 Lost large male Akita. Black face, white body with black and brown markings. Was wearing a brown leather collar when went missing a week ago when blizzard knocked down our backyard fence. Please help us find him or if have him please return him to us - offing a reward for a safe return of our dog. Please contact: wddavis@gmail.com or phone:405-605-1724

Lost Shawnee, OK
2-20-2010 Snickers a 2 yr old black lab has been missing from Garrets Lake Road and Bryan. She has 8 6wk old puppies. She has been gone since 10:00 Thurs morning.2-18 -10. Please contact Jeremy Kinnamon at 401-0422 .
Lost Tecumseh, OK
2-20-2010 Missing since 2/11/10 ~ Black male Lab mix, almost 1 year old, when he left my house he had a silver choker chain collar ~ answers to "Brody" (most of the time). May have a smaller black dog with him who answers to "Lil' Bit" ~ we are missing them both very much. He loves other animals and thinks everyone loves dogs, (he doesn't actually know he is one though). If he is at your home, get the broom and sweep or a shovel and use it, if he barks at you while you are doing it, it is probably Brody! He's a clown, and the man in my life. I love him and would like to have him back. Please call (405) 517-1459 or (405) 343-1490.
Lost McLoud, OK
2-9-2010 Lost two loving dogs in Mcloud area. Both males, one is a black lab blue heeler mix. He's very hipper and loves attention. Was wearing a black collar with no tags. He has brown eyes and stands about 2 feet tall. Very pretty black fur coat kind of long in length. He goes by the name of tiny. The other baby is a white lab great Dane mix. Goes by the name of Douglas. He stands about 3.5 feet tall has a 2nd dewclaw on the back left paw. Has black spots on both ears.
these dogs mean the world to us so please contact us at 4057957083 if you find them!
Lost Shawnee, OK
1-31-2009 Shih Tzu went missing Friday January 29th, about 4pm. He is white with one eye. He goes by the name Jack and is very friendly. A red truck picked him up, the neighbor says. He is missing from 106 Dee Dee Drive Shawnee, OK 74804. This is a housing addition right off of hwy 270. We miss him very much. Contact hayley.spears@yahoo.com
Lost Bethel Area, OK
1-24-2009 Missing one of my dogs. I live on Highland Road off a Bethel Road (I am south of hwy 9). She has only been missing a couple of days but she has never left home. My dog's name is Isis. She is a mix with the most beautiful blue eyes. She has a "saddle of brown" on her back and she is a mixture of white, brown and some black. Contact 598-8238 with information.

Lost Tecumseh, OK
1-24-2009 LOST in TECUMSEH,Redish Brown Rodisian Ridgeback Male Dog.Maybe in the Pecan Grove or Herwood Grove area. I live off Bob Crouch road. Very good natured dog has some hip problems was wearing a black collar lost the night of Dec.31,anyone has plz call 405-481-0505
Lost McLoud/Dale, OK
1-21-2009 DOG MISSING - Black and white female large boxer (mix) with pink and white collar. Missing since 1/17/2010. The dog may look like a pit but not a pit. Owner lives off I-40 and Hwy 102 area
589-2873
Lost Choctaw, OK
12-13-2009 LARGE Black and White Boston Terrier. Aprox. 50 lbs. Last seen on SE 44th and Indian Meridian in Choctaw. He does not have tags or microchip. His name is Boomer and his brother and sister along with my kids miss him. He is missing a tooth near the front of his mouth. He is 3 and a half years old. Please call or e-mail me Monique 391-5341 or Moniquelt2@aol.com.
Lost Bristow, OK
12-06-2009 My dog was taken from my home on 11/27. Queenie is 11 and is spayed, and has weak hips. If you see her please call me 405-356-2412

Lost South of Lake Thunderbird, OK
12-01-2009 My son lost his rat terrier/mix in the area of Hwy 9 and 120th. Male , mostly black, 8 YO, answers to the name of Rascal. If found please contact Kim Echols, 405-249-6039.
Lost Pink, OK
11-29-2009 Please help me find my daughter. She is gold in color with white on her stomach and chest. She looks a lot like a pit bull but is not. Her eyes match her coat. She is good sized. Her nose is a brown color. She is very friendly. And very loved! Her name is Goldie Hawn but will answer to Goldie, Nana, or Nannie. She is three years old. Very playful and energetic. And loves other animals while she can come across a little over bearing with them. She is super sweet! Please contact me at either 405-487-9124 or 405-788-1987. Please she means so very much to us!!!!!!!!!!
Lost Duncan, OK
11-28-2009 Hula and her brother (we found him with his feet hurt from jumping out of a vehicle) was lost or taken from Duncan, Oklahoma 11/9/09. She is a Lab/Brittany mix with some Catahoula in her. She has a blue spot in one eye. She has short mostly black hair with white and brown markings. She has allergies really bad and needs shot, medicine, and special food. She may look like she has the mange by now. Reward is being offered for her safe return, no questions, I just want her home safe. Contact: anderson-marilyn@att.net
Lost Oklahoma City, OK
11-25-2009 Lost Pomeranian; Windsor Hills area of OKC; 5-7 pounds; missing since November 15th; choc brown with white on belly and white on feet, looks like she has white slippers; name is Hazel; 2 years old; very timid and may run; every noise scares her; please call 202-7725 or 601-9837.

Lost Newalla, OK
11-4-2009 Lost in the Newalla area on Sunday. Adult Male, brown/black saddle, beige chest/legs, black nose. Answers to Zeus. Last seen at 44th Dobbs (Newalla) semi close to McLoud. Please call if found. 391-7592.

Lost Edmond, OK
11-4-2009 Yorkie female under 5 pounds light grey brown hair around face and back end black brown in the body she is ten years old has ear infection in her left side has had puppies in the past missing on 10-20-2009 from the corner of Bryant and second in Edmond goes by the name of Sarah if you find her please call me at 405-550-5855
Lost Tecumseh, OK
11-3-2009 We have lost our son Chester!! He is a Louisiana Catahoula and he is 1yrs old. He lives in Tecumseh area and was last seen on 11/01/2009. He is a very friendly dog who loves to play with any other animal who will play with him. Please contact me at piercejen78@yahoo.com if you find him, There is a reward for anyone who finds him!!!!!!!!!!

Lost Shawnee, OK
10-27-2009 We have lost our sweet kitty…He is a tuxedo black and white with white whiskers. His name is Louie and we have had him since the day he was born. He is sweet and lovable and came all the way from Tennessee with us. We would really like to find him and have him come home. Contact Amy 405-395-2330
Lost Earlsboro, OK
10-24-2009 A male dapple dachshund, black and silver and has cow spots on his stomach was lost last Saturday in Earlsboro. His name is Cletus. There is award of $100 for his return. Email me at shortmom262001@yahoo.com or call 997-8297 or 997-3232.

Lost Newalla, OK
10-20-2009 We have lost our baby!!! His name is Rocky, he has been missing since Monday 10/05/09. He is only 5 months old. If you have any information please contact me by phone 405-488-4211 or e-mail adavidson@hiltgenbrewer.com
Lost Geary, OK
10-11-2009 Reward. Help, I have lost my dark brown brindle female Pit Bulldog 10/7/09. Her name is Lexus. She was last seen 1.5 miles north of Geary, Ok. Very friendly. If you any info, please call me at 405-542-7268 or email mbelter@hintonet.net.
Lost Earlsboro, OK
10-11-2009 Reward for my black and tan German Shepherd. He was lost in Earlsboro area on 9/29, he is my family and i want him home very badly. Contact Jesse: 1more4jesus@mbo.net
Lost Shawnee, OK
10-5-2009 I lost my 2 dogs approx. 3 weeks ago. Part Lab and part Border Collie in the vicinity of Bryan and Westech. One is a blond lab (Zena, female, spade) and the other is a black Border Collie with white under the neck (Harley, female, spade). They are one year old. Miss them alot!! Please help! Shelley 405-808-5591.
Lost Shawnee, OK
9-28-2009 We have just lost our Boxer female named Brandy who is fixed and her buddy Sassie who is a Rott with a small amount of white on her chest. Both have collers and we hope are still together. They were last seen around 7 am on 9-27-09 on Grant and Tucker. if you have seen them please let me know. They belong to my mother in-law and she is in the hospital. She is comming home soon and is broken hearted to know her babies a gone. 405-273-8820

Lost Shawnee, OK
9-28-2009 Lost Pomeranian/terrier. Crème in color last seen 09-25-09 aprox 8pm wearing a red, white and blue collar with vaccine shot tag, missing two upper front teeth. May have been seen with a black wennie dog wearing a red and black collar with silver bones on collar. weighed 15.4 on 9-1-09 may be roaming around highway 177 aprox 5 miles north of highway 62 in Lincoln county, ok. please call 551-6674, 551-5382 or 551-5384 or e-mail at sgunn100@yahoo.com

Lost Oklahoma City, OK
9-12-2009 Male neutered Chihuahua smooth coat chocolate white chest white paws halfway name B0-B0 5 LBS his picture is on Amber Pet Alert zip 73119 Oklahoma City REWARD 500.00 GOD gave him to me to love take care of I miss my baby B0-B0 he wants to come home to me please help me find him. God will Bless who ever finds B0-B0 or who took him from me and gives him back to me the money is yours no questions ask he means more to me than you getting in trouble . God Bless You. Frances Bromley my phone is 405-681-0046 or cell 405-388-5794
Lost Tecumseh, OK
9-9-2009 We are missing a member of our family. His name is Chico he is a Chihuahua rat terrier mix. He went missing the 11 of August. We are offering a cash reward for his safe return home to the family that loves and misses him so very much. Please if any one has seen him or knows where his is please contact us @(405)-598-1626 or (405)-503-7067.

Lost Shawnee, OK
8-25-2009 Male un-neutered cat from the corner of Burns and Chapman. He is black (has some white on his stomach) and has short hair. He has been gone about 3 weeks. His name is Midnight, so if you or any of your friends have found him, please call Tara at 802-8016 (cell).
Lost Harrah area, OK
8-22-2009Two yellow labs both males names buddy and lucky got out of fence in bowman ranch located just east of Harrah road off of NE 150th. Please help me find our loving dogs. We just moved into the area. Brandi 664-6533 Todd 626-0719 plz contact us with any info.
Lost Shawnee, OK
8-13-2009 Lost Hwy. 177 & 45th, near E-Z Mart and Starskate. A 3-year-old black and white, double-dappled, blue-eyed male Dachshund, named Harvey. I really, really miss the "little guy" and would appreciate any help in getting Harvey back. Contact: Brent 918-629-6408 (cell),